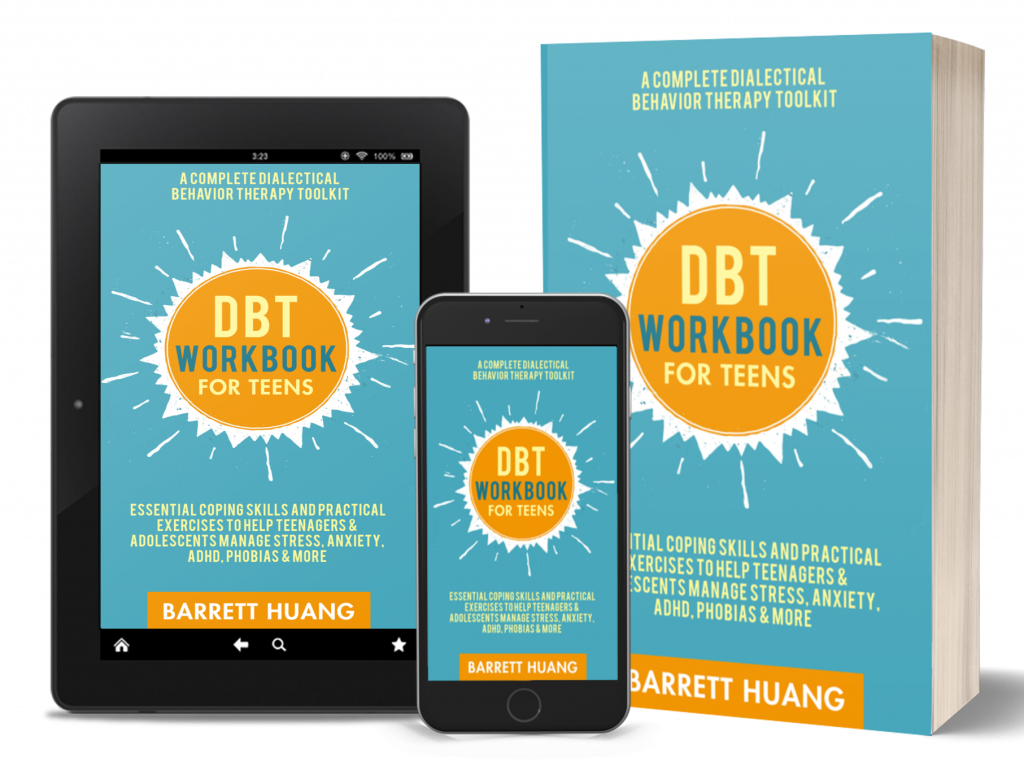 New Release
DBT Workbook For Teens
A Complete Dialectical Behavior Therapy Toolkit | Essential Coping Skills and Practical Activities To Help Teenagers & Adolescents Manage Stress, Anxiety, ADHD, Phobias & More
Unlock the power of Dialectal Behavior Therapy and arm your teen with the tools for emotional success with this complete workbook for managing anxiety, stress, fear, ADHD, and more.
Specially crafted with a warm, heartfelt, and friendly tone, this practical activity book explores the proven benefits of Dialectal Behavior Therapy, along with how we can best equip today's young people with the emotional tools they need to achieve balance, stability and wellness in their lives.
Drawing on a powerful mix of psychological insights, user-friendly advice, and fun project sheets to help you on your journey to a happier life, the DBT Workbook for Teensseeks to dispel the mysteries around DBT and provide parents and teens alike with an invaluable tool for personal and emotional growth.
Here's just a little of what you'll find inside:
Exploring Mental Illness and The Power of Dialectal Behavior Therapy
Practical Methods For Managing Stress, Worry, Anxiety, and Fear
Heartfelt Real-Life Anecdotes and Inspiring Personal Stories From Teens Around The World
A Collection of Practical Action Plans To Help You Implement Everything You Learn
Tools For Managing Phobias, OCD, Self-Harm, and Eating Disorders
And Much More…
Are you ready to help your teen thrive with the power of DBT?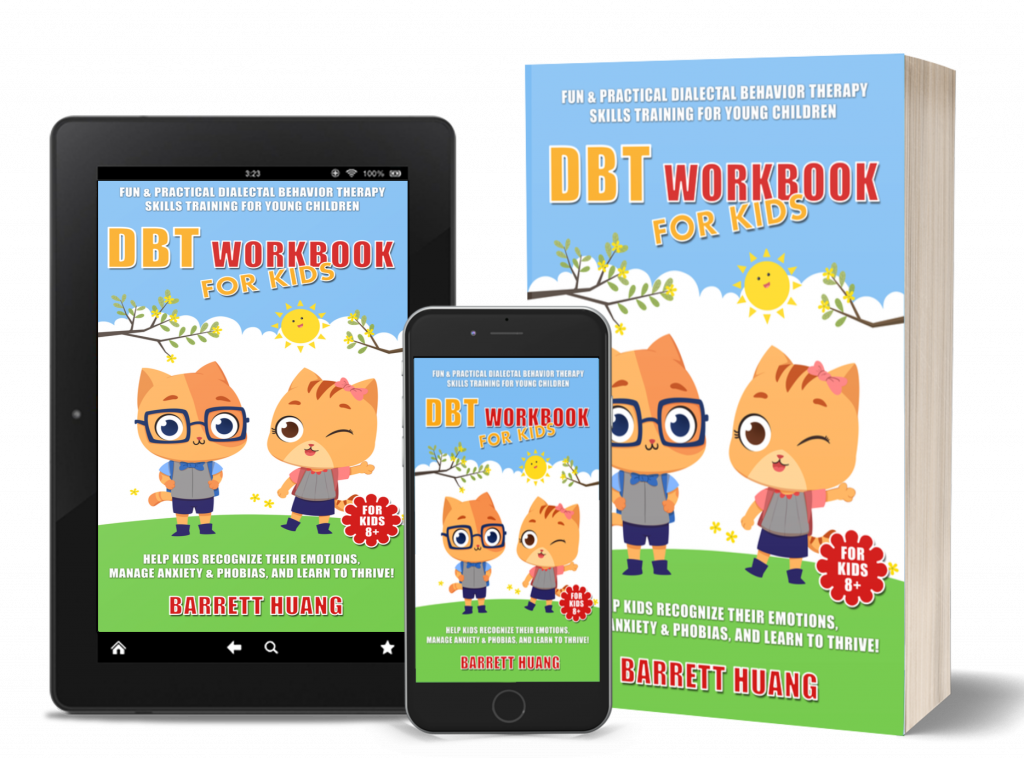 Best Selling Book
DBT Workbook For Kids
Fun & Practical Dialectal Behavior Therapy Skills Training For Young Children | Help Kids Recognize Their Emotions, Manage Anxiety And Learn To Thrive!
Empower your child's emotional growth and help them explore their feelings with this complete Dialectal Behavior Therapy workbook for kids!
Bursting with a ton of fun and straightforward exercises that inspire children to think about their feelings, this practical Dialectal Behavior Therapy guide offers an engaging way for parents to help their kids cope with stress and navigate times of emotional difficulty. Balancing a warm and lively approach with proven psychological insights and a collection of easy worksheets, the DBT Workbook for Kids breaks down complex topics into simple language that children of all ages can understand.
Here's just a little of what you'll find inside:
Breaking Down Anxiety – What Does It Really Mean?
A Fun Guide To The World of Dialectal Behavior Therapy
Engaging Stories, Quizzes, Exercises, and Plenty of Inspiring Quotes
Powerful Techniques For Overcoming Fears, Phobias, PTSD, and Panic Disorders
DBT Tips For Managing OCD, Selective Mutism, and Repetitive Behaviors
The Surprising Ways Dialectal Behavior Therapy Can Help Parents
And So Much More!
---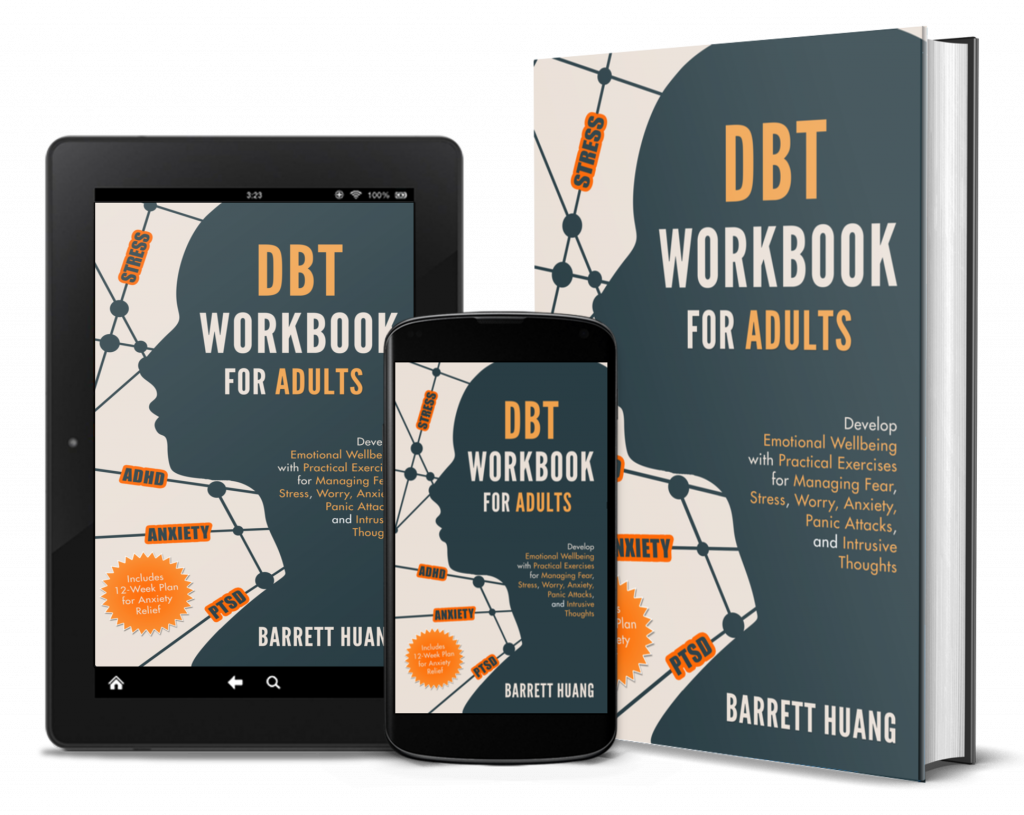 Best Selling Book
DBT Workbook For Adults
Develop Emotional Wellbeing with Practical Exercises for Managing Fear, Stress, Worry, Anxiety, Panic Attacks, and Intrusive Thoughts (Includes 12-Week Plan)
Overcome anxiety and embrace your emotional well-being with this ultimate DBT workbook for adults.
Do you often struggle with persistent feelings of stress, anxiety, and fear? Have you tried CBT and other forms of therapy, but you haven't seen much success? Are you searching for a detailed and highly personalized roadmap for cultivating your wellbeing and embracing psychological health? Then keep reading.
Combining a wealth of practical exercises with an actionable, authentic, and heartfelt blueprint for inspiring personal change, this Dialectal Behavior Therapy workbook for adults seeks to shine an illuminating light on the topic of DBT, empowering readers everywhere to overcome whatever struggles they're facing. Drawing on the author's extensive personal experiences dealing with anxiety and OCD, you'll find the best methods for managing feelings of stress and worry – along with a safe, honest, and open place to explore your anxiety and work towards creating positive change.
Here's just a little of what you'll discover inside:
Exploring The Fundamentals of DBT – and Why It's So Different To Other Forms of Therapy
Practical Exercises and Skills For Dealing With Anxiety, Stress, and Worry
The Art of Boundary-Setting (and Why Having Clear Boundaries Is Essential For Your Wellbeing)
Detailed Action Plans For Tackling ADD and ADHD
How To Confront Phobias, Panic Disorders, and PTSD
Tips and Tricks For Managing Obsessive-Compulsive Behavior
A 12-Week Action-Focused Workbook To Track Your Progress and Examine Your Emotions
And So Much More…
Are you ready to begin your journey with DBT?